We're only a couple weeks away from college football's 2014 kickoff!
To start off this year's coverage, we're giving you some "10 to Watch" lists from the major college FBS conferences.  These are the players we're most excited about on the fantasy football level; players who have already established themselves as production studs, and or have the most upside to blow up in the upcoming year.   The ACC is as top heavy of a conference as you'll find this year, and has a lot of talent to replace.  That being said, while Florida State may ravage over the land in pure football terms, there is still plenty of fantasy value to be had throughout the other teams in the league.
Without further ado, here is the "10 to Watch" for ACC players, for college fantasy purposes, in 2014: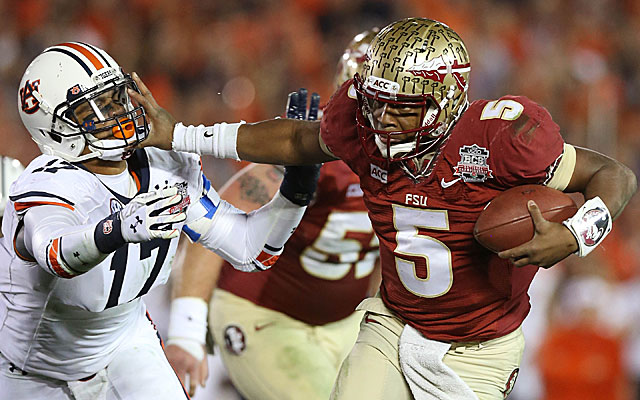 1)      Jameis Winston (QB, FSU)
I thought about putting Duke Johnson (RB, Miami) here, just to get a reaction, but who am I kidding. Anywhere that there is a #1, this kids' face will be next to it.  The top QB in the land is by far the top fantasy player in the ACC.  With a quarterback rating of 184.8, 40 passing touchdowns, and a few rushing touchdowns thrown in for good measure, this kid is legit.  The lack of rushing touchdowns may hold him down in some formats, but if passing TD's are scored equal to rushing, he's behind only Marcus Mariota and possibly Bryce Petty for top overall quarterbacks.  While he's all world in college football in general, we'll see if he can become all world in college fantasy this year.  I'm interested to see what he can bring to the table coming into his sophomore year with a stacked Florida State offensive lineup (as you'll see below).  You might need the #1 overall pick to get him, but he's a great #1 QB for any fantasy team.
2)      Rashad Greene (WR, FSU)
Now you're probably asking, why did he put Duke Johnson as a potential #1, when this guy is the #2?  Well, who knows…just to mess with you I guess.  That being said, Rashad Greene, a fifth-year senior at Florida State, is prime to come into his own in his final year in Tallahassee.  With Kelvin Benjamin and Kenny Shaw leaving, and 1,944 yards receiving now up for grabs, I foresee Rashad Greene jumping on the fantasy expressway and going for top tier college receiver numbers with at least 1,600 yards and 15 touchdowns.  While Greene has NFL written all over him, this pick also shows how terrible the ACC is this year.  I just don't see anybody in the conference slowing down Florida State's dynamic offense.  Pick him high, and enjoy the points.
3)      Duke Johnson (RB, Miami)
Duke Johnson was all-world last year until he got injured.  Now, keep in mind that he was all world against the likes of Florida Atlantic, Florida, Savannah State, USF, Georgia Tech, and North Carolina…and with the potential exception of a Mash unit Florida team, I'd hardly call that murderer's row.  That being said, assuming he's healthy, Miami's schedule this year is just as soft.  Now, he's a talented back, don't get me wrong, but with this schedule I just don't see him failing your fantasy team this year.  I could easily see him topping 1500 yards and getting 12 touchdowns on the ground, with a few touchdowns through the air as a bonus.  Keep in mind this kid had 920 yards and 6 TD's last year through basically 7 games, so he should have topped 1,500 yards had he stayed healthy.
4)      Jamison Crowder (WR, Duke)
I love this guy, and think that he has "next level star" written all over him.  He's speedy, shifty, tough, and a great route runner.  He's also going to benefit from being on one of 5 teams in the ACC with a returning QB in Anthony Boone (QB, Duke).  Boone and the coaching staff know who butters their offensive bread, and will get Crowder the ball early and often.  Like all the other teams in the Coastal, their schedule isn't terribly daunting.  Even better, Duke plays three home games to finish the season including a likely barn burner on November 20th at North Carolina.  If you make it to your championship game, they play on November 27th against very weak Wake Forest team in a likely blowout. I'd expect Crowder to gain 1,400 yards and 10 total touchdowns on the year.
5)      Karlos Williams (RB, FSU)
It almost hurts to put this kid at #5, because he could legitimately end the season with the kind of stats that make you wonder why you didn't reach to pick him earlier in the draft.  This kid came to Florida State to play safety and spent his first two years playing that position.  Last year they switched him to running back, and while 730 yards on 91 carries for an 8.0 YPC clip is exciting enough, ponder this…from what I can find online, he had previously never lined up at running back until last year!  He has the kind of explosive athleticism that can create yardage at a ridiculous clip, and if he can stay healthy that fantastic FSU offensive line will open up holes for him.  He could be in for a truly remarkable jump in production.  At the lowest level I'd expect 1,200 yards and 10 TD's; however, don't be surprised if he ends up with nearer to 1,600 yards and 20 TD's on the season. Keep an eye on the news coming out of Florida State camp, and if the coaches are raving about him, don't hesitate to reach to grab him, even with a 3rd round pick.
6)      Tyler Boyd (WR, Pittsburgh)
I would love to put this kid higher on the list, but we have no idea who will be throwing the football for the Panthers come fall.  If Savage was still there I could easily see 1,500 yards and 15 TD's from this kid, but with a new face under center for the Panthers, it's difficult to peg Boyd for more than 1,200 yards and 8 TD's for the upcoming season.  I expect him to still get open and make defenders look silly, but we just don't know yet who Chad Voytik (QB Pittsburgh) will be as a QB.  That being said, I would definitely draft Boyd in the 5th (maybe even late 4th if Voytik is looking fantastic in camp) and if Voytik ends up playing like a stud, you may have a top 10 receiver on your hands in terms of pure production.
7)      Davante Parker (WR, Louisville)
I love this guy, and in the right offense he could really be an explosive fantasy force. However, this is an offense that just lost NFL first round pick Teddy Bridgewater.  Even with Teddy he had only 885 yards and 12 TD's last year.  Now, 12 TD's is good, but wow, I watch this guy play and am amazed that he wasn't able to at least top 1,000 yards.  I'm going to say that this is the year he breaks through and peg him for his first 1,000 yard season, with 1,200 yards and 12 TD's.  As strange as it may seem, I honestly think that losing Bridgewater may be helpful to his stats. While Bridgewater would spread the ball around (and often ignore Parker for entire games), I think the new QB here, whomever it may be, will lean heavily on Parker.  You may have to reach a bit to pick him up, but a pick in the 6th would be a nice place to land him.  If he falls a round or two further, he'll be a great value.
8)     Kevin Parks (RB, Virginia)
Virginia is terrible, I know, I get it.  That being said, their defense is better, and although their offensive line loses two big contributors, their QB and WR's are going to be better.  Although Parks averaged a pedestrian 4.5 yards per carry last year, he was one of a very select group of weapons for UVA. However, Parks had to deal with sitting and watching while Virginia aired out the ball to stay in games.  With those 227 carries last year, and an improvement of about .5 yards per carry you're talking about nearly 1,200 yards and 13 TD's. Improvement of the Cavalier defense could lead to more carries, and when you follow through with the math, as Martha Stewart would say, "it's a good thing."  Parks is not a blazingly fast back, but he's shifty with enough quickness to get the ball upfield in a hurry when he sees some daylight. He will also get the bulk of the goal line carries, and I'd say he's a sneaky good draft pick in most leagues.  I'd snatch this guy up around the 7th round after the top tier guys are all gone, and I would be very happy to have him backing up crew of starting RBs.  Now, if you have delved in too heavily to the wide receiver cooler by that point in the draft, he could easily be a reach late 6th round pick and function as a RB3, but you'd better hope you can find some gems later in the draft or have some serious studs at WR.
9)      James Connor (RB, Pittsburgh)
This kid is an enigma to me because he has size and speed, but I watched his production last year and can't quite peg him.  He runs like a more athletic Mark Weisman (Iowa, RB), or a less athletic version of John Clay (former Wisconsin running back), but either way the kid has far more talent than the other Pitt back, Isaac Bennett (RB, Pittsburgh).  I find it hard to believe that head coach Paul Chryst hasn't come to the same conclusion, especially after Connor's explosive game in the Little Ceasar Bowl versus Bowling Green.  Yeah, I know, Bowling Green…but 229 yards on 26 carries is impressive nonetheless.  Reading Paul Chryst's mind is nearly impossible, but assuming Connor gets the keys as the lead back this year, I wouldn't be surprised to see him run for 1,200 yards and 9 TD's.  If Isaac Bennett gets relegated to mop up duty, the numbers could go upwards from there.  This kid will not be well known in draft circles, so you should be able to use a late round draft pick to grab him. That being said, there is no shame drafting this kid higher based upon what you hear out of the Pitt camp. After all, that is what college fantasy is all about.
10)      Elijah Hood (RB, North Carolina)
You know you're dealing with a down year in a conference when one of the top 10 to watch for fantasy purposes is a true freshman who hasn't even stepped on the field yet.  Still, his clips remind me of a poor man's Herschel Walker, and he really does look the part of a college running back in his senior year in high school.  Now, there are major issues with counting on a freshman running back to give your fantasy team anything, but relative to QB's and WR's, a running back with instinct, size, and speed like this one can be a solid producer for a team.  I wouldn't touch him until one of the final rounds, but, assuming he wins the job, I could see him blowing up on the scene this year against the early season weaklings on North Carolina's schedule (Liberty, San Diego Staete, & East Carolina).  If he can keep that confidence going afterwards, with the holes this offense is capable of creating, he could be in for a really solid year…again…assuming he wins the job and all those "ifs."  Watch this camp closely though as his talent will likely show through at some point.
Thoughts?  Share them below.  In any top 10 list you're going to miss some players; especially in college where the next super stud possibly hasn't taken his first step on the field.