I'm not gonna dance around it. I'm not gonna sugar coat it. After the fist 4-5 names on this list, there's not a ton to get excited about in this system on a real or fantasy level. But, those 4-5 names are names that should eventually be regulars in fantasy lineups. The Dodgers have a strong history of churning out major league talent, and they've also demonstrated that when they have talent they're willing to put them on accelerated development plans in order to get them to the major leagues. So it's conceivable that within 1-2 seasons those names should be helping the Dodgers and your Dynasty teams win. It's all about flying that flag for the boys in blue, and you've got to respect that.
Apply what you've learned and win some cash! DSE Fantasy Baseball Leagues are now open for registration. CLICK HERE for more info!
1. Alexander Guerrero/2B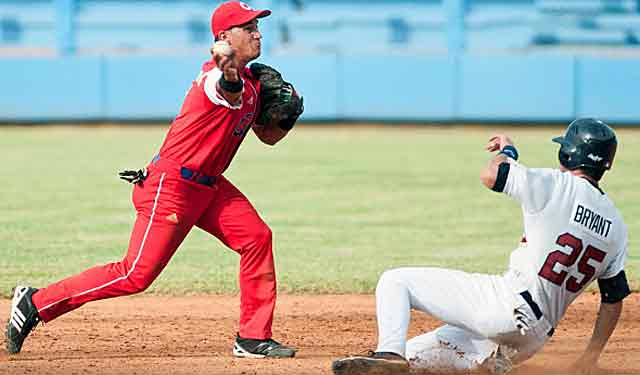 Never one's to shy away from the international market, the Dodgers flashed the cash and signed this Cuban star for 4 years and $28 million this last offseason. And they have no intentions of sending him to the minor leagues…at least not for long. The team is reportedly uncertain how Guerrero will handle the keystone responsibilities, so some time in AA or AAA might be necessary as he acclimates to the new position and life stateside. He projects to be a strong offensive presence in most categories, with the lone exception being stolen bases. If he plays like he did in Cuba–or even close to it–we could potentially see one of the best second baseman in fantasy. He claims the top spot due to his upside at a middle of the diamond position and relative closeness to the majors.
ETA: Early 2014
2. Julio Urias/LHP
Carlos Rodon. If we're only talking pro ball, Julio Urias. RT @blackandgold12 Who would you rate as the #1 lefty in the prospect world?

— Ben Badler (@BenBadler) January 12, 2014
To catch you up, that's Ben Badler of Baseball America who was asked who he thought the #1 lefty prospect in baseball was. Now, he's obviously telling us how he feels about Carlos Rondon first and foremost, but it's also a glowing compliment for Urias as there's several southpaw prospects he could have chosen from. I don't hesitate in saying Urias' upside is probably just shy of Clayton Kershaw territory, because as an 18 yr. old he's already showing three plus pitches. Obviously there's some risk involved here too as he's still developing and growing into his frame, but if he continues to refine his arsenal he could be THE top pitching prospect in baseball period. He should reach AA at some point this year, and it's not out of the question that he could see the major leagues before age 20. By all means get excited about this young arm, but keep your emotions in check…at least for now.
ETA: 2015
3. Corey Seager/SS
The brother of current major leaguer Kyle Seager, comes in at #3 on this list, but an argument could be made for him to be #1. 20+ HR/year upside combined with the potential for solid averages and OBP's is solid fantasy player anywhere on the field. But when it comes from the left hand side of the diamond, you could have a top 5 shortstop or third baseman on your hands. Most scouts agree his future defensive home likely won't be at shortstop which will hurt his value slightly, but the offensive projections are too kind to ignore and his bat should play even if he has to move to the hot corner. However, something to keep in mind is that the Dodgers have shown in the past they're willing to look the other way on defensive shortcoming's if the offensive upside outweighs them. Seager raked in his first full year of pro ball until he got promoted to High A where he struggled against the higher quality  arms, so expect him to return there to start 2014. His bat plus the offensive climates of the Cal League should help his prospect status to soar even more, and there's a chance he could see AA by season's end.
ETA: 2015
4. Joc Pederson/OF
One of the more well rounded prospects in baseball, Pederson offers good but not great upside, but comes with a relatively low floor as well. With average or better tools across the board, he has the classic 5 category outfielder profile and could contend for 20/20 annually. Additionally, he's already held his own at AA so a call up should come sometime in 2014. The Dodgers have a pretty crowded outfield, but lucky enough for Pederson a couple of them are made of glass so there's a very strong possibility he could be in line for some serious playing time this year. Even in redraft leagues he could be a sneaky late round flyer due to his skill set, but only if you could stash him. He doesn't have much more to show in the minors, so it's likely that after this year he's a full time member of somebody's outfield, it just may not be the Dodgers'.
ETA: Mid 2014
5. Zach Lee/RHP
Lee was given a large sum of money to lure him away from playing quarterback for LSU back in 2010, and when the team drafted him they had visions of a frontline starter dancing in their heads. Well, it's pretty evident at this point that that's not going to happen (as it so often does with prospects), but that doesn't mean they won't at least get a solid #3 starter out of the deal. He has decent but not great stuff; his fastball sits in the low 90's and he shows good command of it, his slider can miss bats but it doesn't project to be more than an average pitch, and the same could be said for his curveball and change up. All told, he has good size (6'3″/190), good command/control, and an arsenal that may not be flashy but he has a feel for all his pitches and he can use them to post solid ERA's and WHIP's–especially in Dodger stadium. He'll move to AAA in 2014 and should be ready if the team has an injury in the rotation, or need some help eating innings out of the pen.
ETA: Mid 2014
6. Chris Anderson/RHP
Here's where the system begins to take a slow, steady downward turn–at least in terms of fantasy. Anderson may possess slightly more upside than Lee with his plus fastball and potential plus slider, but he's unlikely to reach it due to his below average command. Additionally, he lacks a consistent third pitch which will keep him from missing enough bats to be an impact fantasy starter. He won't be useless in fantasy, and maybe down the line he could be an intriguing arm out of the bullpen, but for now he doesn't project to much more than #4 or #5 starter. He may get a few more strikeouts than Lee, but he'll also hurt more than help in the ERA department.
ETA: 2015
7. Tom Windle/LHP
Windle is very similar to Anderson in the respect that he has the potential for a couple plus offerings, which carries with it some upside, but he also has the same struggles with command that Anderson does. Both could log some innings and strikeout 150-170/year their peak, but those will likely be the only categories they impact, as the command issues could lead to some higher ERA's/WHIP's.
ETA: 2015
8. Victor Arano/RHP
Arano only has 49 innings of complex games on his resume, but he could be someone to target in deep dynasty leagues. He's only 19, and he already has a very mature build at 6'2″/200 (could be a problem later on), two pitches that should be plus when he matures, and some early feel for a change up. As I hinted at, he'll have to make sure the body doesn't get out of control, but at the present you have to like the overall prospect package. He should jump to the full season level this year, and if the secondary pitches take a step forward this could be someone to watch these next few years.
ETA: 2017
9. Onelki Garcia/LHP
Garcia has the raw stuff to dominate at the back end of a bullpen with his lively fastball and sharp breaking curveball, but unfortunately that's about all he offers, and even then, he would currently be behind several names on the pecking order when it comes to saves. There's upside to be had if he can stay healthy and he gets his chance, but right now you're not counting on him. Perhaps a change in scenery would increase his stock.
ETA: Debuted in 2013
10. Adam Law/3B
Usually prospects who are approaching 24 and have yet to play at the full season level don't end up being very good players, but reports on Law suggest he might be an exception. His carrying tool will be his plus plus speed, but scouts have also suggested he may be able to hit for solid averages as well. He's really got to start putting it together if it's gonna happen, but it's hard to ignore his upside in the steals category. 2014 will be a huge year in separating hype from reality for this prospect.
ETA: 2016
In Conclusion:
Alright, so it's not the strongest of farm systems, but you've got to love the top half of it. The back end does drop off quite a bit, but even then there's still some stuff to dream on. Expect a few of these names to pop up at the major league level in 2014, with a couple of them potentially having big roles. Also, it's important to remember that with a team like the Dodgers who are expected to be in contention in 2014, that some of these names may not be in the organization come mid summer. That can sometimes change their prospect status–for good or bad. All in all, it's a solid but not sexy system.