Ahhh the Twinkies. Seems like just yesterday when young Billy Heyward was transforming that band of misfits, bringing them within one spectacular Ken Griffey Jr. catch from making the playoffs. But those days are gone, and actually the days of any Twins team making the playoffs are long gone, as it's been 7 years since the they've visited the promised land. However, it would appear that with a system rivaled only perhaps by the Cubs, that the playoff-less streak would be coming to an end within the next couple of years. And good news for the Twins means good news for fantasy owners. This system boasts some of the finest talent in all the minor leagues as well as some intriguing lesser known players who could still give the team a top tier system even when the big names have graduated.
Apply what you've learned and win some cash! DSE Fantasy Baseball Leagues are now open for registration. CLICK HERE for more info!
1. Byron Buxton/OF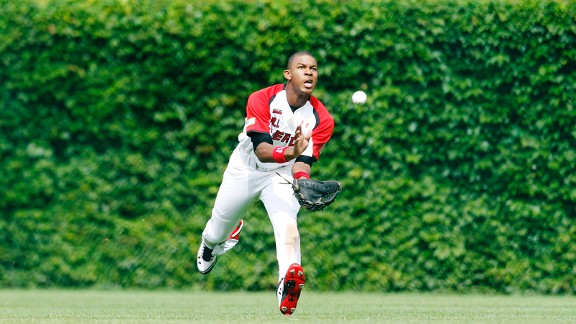 5 tool player…big yawn. Generational talent…yada yada yada. Seriously, you've heard it all before and you're not gonna hear anything new from me. But the truth of the matter is everything you've heard is just that…the truth. Yes, he's still transitioning from a raw athlete to a complete baseball player, but there's absolutely nothing that says this guy won't AT LEAST be a perennial all star. He projects as an impact player in every single fantasy category you can imagine, and could be elite in the stolen base department. The Twins usually go with the "low and slow" approach with their prospects, but Buxton isn't a normal prospect. He should hit AA in 2014 and will probably reach the majors as a 20 year old before the year's out.  If you own him, enjoy the ride. If you don't but want to, good luck. Start by asking yourself what you'd want in return for Mike Trout and go from there.
ETA: Late 2014
2. Miguel Sano/3B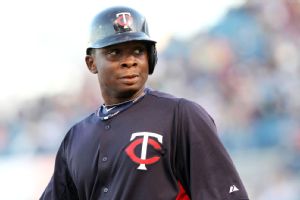 Sano is the preeminent power threat in the minors. He has true 80-grade raw and has demonstrated such power in games (something not everyone can do). Last year, across High A and AA, in 123 games he belted 35 HR's. According to my notes that's pretty good. But beyond his gaudy power numbers he's also a very good athlete–especially for his size; during those same 123 games he also managed to steal 11 bases. All told, assuming he can shorten his swing and curb his aggressiveness at the plate, this could be one of the best players in fantasy baseball. If not, then we may be looking at the next Adam Dunn (I shuttered even typing that name). He'll be competing for a roster spot this spring, but he and Buxton will now be on a similar time table and may end up being teammates from here on out.
ETA: Late 2014
3. Kohl Stewart/RHP
In a system (and organization for that matter) void of top shelf arms, for Stewart to be sitting there at #4 in last year's amateur draft was probably the best thing for the Twins short of Appel or Gray falling to them. And even then, many scouts agreed that Stewart has at least as much upside as either of the aforementioned arms (though I would argue Gray has the most). Stewart has a lively fastball that works in the low to mid 90's, and a wipeout slider that he throws in the mid 80's; both have the potential of being plus pitches. He also has a curveball and change up the should at least end up being average. He has top of the rotation potential, but refinement of his secondary offerings and improving his command/control will determine whether or not he reaches it. It's likely he could see High A by season's end.
ETA: 2016
4. Alex Meyer/RHP
Some would've taken the closeness to the Show and higher floor of Meyer over the upside of Stewart, but I opted with the latter. That said, Meyer's still gonna be a very good fantasy player, whether that's as a member of the rotation or as a devastating closer. Meyer has the necessary pitches to be a good #2 starter with his elite fastball (can hit triple digits) and a plus slider, but it's his mechanics and delivery that can give him trouble and possibly force him to the pen. At 6'9″ and 220 lbs., he has the size that you covet, but being that massive means there's a lot of moving parts and sometimes it's difficult to get all those parts working together. Scouts are mixed on his ultimate projection, but he'll be given every chance to stay in the rotation. As a fantasy owner you hope that happens, but even if it doesn't he'll still contribute nicely for your squad. He should reach Target Field at some point this year.
ETA: Mid 2014
5. Eddie Rosario/2B
Almost entirely all of Rosario's future fantasy value hinges on whether or not he'll be able to stick at the keystone. He carries with him a potential plus hit tool which could lead to high averages, as well as a good set of wheels, but it's that pesky defense that has scouts concerned. His bat is good enough that it will carry him to the majors, and if the Twins decide to overlook his defensive shortcomings in favor of his offensive upside then he has potential top 5 second base upside; contributing in batting average, stealing 20 or so bags, and chipping in 8-10 HR's. But if he's pushed to the outfield, then that profile suddenly loses a lot of it's sexiness. He lands at #5 for his upside, but most scouts do not see a future second baseman. Here's hoping they're wrong.
ETA: Late 2014
6. Josmil Pinto/C
The best thing to happen to Pinto's fantasy stock happened not of his own volition, it happened because the Twins decided to make Joe Mauer the full time first baseman, giving Pinto the starting catcher job come opening day. Pinto's not flashy by any means, but he's a decent hitter with above average power potential. And we all know that having a catcher who isn't a black hole in your lineup and can actually provide some pop is a valuable commodity. Don't get carried away with your expectations, but the chance for .270+ and 15-20 HR's probably isn't much of a stretch if he stays healthy.
ETA: Opening Day Starter
7. Jose Berrios/RHP
As is the case with many young arms, the big question with Berrios is will he be able to stay in the rotation? If so, he has the potential to be a very good starter. With three potential plus pitches (fastball, curve, and change), he'll no doubt be able to miss his fair share of bats, but at a mere 6'0″ he may not have the size to be an effective starter. Also, he has a tendency of leaving the ball up and gets beat by the long ball more than you'd like which only further makes a case for a move to the pen. Only time will tell, but for now he's a starter. He should reach AA at some point this season.
ETA: 2016
8. Lewis Thorpe/LHP
Remember at the beginning when I said the Twins have some lesser known guys who could still give the team a top tier system even when guys like Buxton and Sano have graduated? Well, meet one of those players. At only 18 years of age, this Australian already has a very promising arsenal and a body that he's still growing into. His fastball currently sits in the high 80's to low 90's but has touched 95 (remember, only 18), and could end up being an absolutely electric pitch as he fills out his 6'1″/160 lb. frame. Additionally, he's already shown that he has a good feel for a change up which is something that many players older than he is can't even say. Granted, it goes without saying that he's nowhere near the major leagues, and may never get there, but the upside is just undeniable. He's only played as high as the complex league, but could burst out in short season ball in '14
ETA: 2017
9. Felix Jorge/RHP
Another young, projectable arm, Jorge may not quite have the upside that Thorpe does but he's still one to get excited about if you're a Twins fan or just a prospect nut in general. He burst on to the scene last season at Rookie level Elizabethton and seemed to get better with each start. His combination of plus fastball (could be plus plus at maturity), potential plus slider, and at least an average change up could end up being lethal. Where he and Thorpe diverge is Thorpe has already shown excellent command/control–especially for his age. Jorge will need to focus on refining his command/control as well has being more confident in his fastball. He'll jump to full season ball this year where his mix of pitches will probably still prove to be too much for opposing hitters.
ETA: 2017
10. Max Kepler/OF/1B
Arsenal Football Club have a German center back named Per Mertesacker who goes by the nickname "BFG". I probably don't need to spell out exactly what that stands for, but it's something along the lines of Big *Something* German. Max Kepler, at 6'4″/180, is also a "BFG". And an extremely athletic one at that. None of the tools may be elite, but they're probably all above average or better across the board. He's a complete upside play at this point, and I'm okay with that because the total package is still enough to get excited about in Dynasty. He's still growing and may end up being a first baseman when it's all said and done, but a player who can contribute in each category has value no matter where he plays on the diamond. 2013 was a down year for him, but a rebound year in 2014 could send him shooting back up prospect ranks.
ETA: 2016
In Conclusion:
There's no getting around it, this system has it all. Buxton, Sano, Stewart, Meyer, and maybe Pinto would all be in my personal top 50, with Buxton and Sano being in my top 5. But even after those guys, there's still a lot to like about this system. And it goes way beyond just sucking for 7 years and piling on a ton of high end draft picks. The Twins have a great scouting department (both domestic and international), as well as top notch player development. Which combined, have given them arguably the best farm system in the game.