With Jurickson Profar graduating to the Show and Mike Olt's fall from grace and subsequent trading, the Rangers' system may lack the punch that it once possessed, but it's still one of the deepest and most talent-laden systems in baseball–especially if you fancy yourself some upside. The Rangers are also one of the best clubs at developing their talent. Which means that while some of these guys may never fully reach their potential, they should end up being contributors at the major league level. It's a system full of dreams; sometimes those dreams are crushed and sometimes those dreams are realized. Only time will tell.
Apply what you've learned and win some cash! DSE Fantasy Baseball Leagues are now open for registration. CLICK HERE for more info!
1. Rougned Odor/2B
Odor is the best second base prospect in fantasy. With average to plus skills across the board, he likely won't ever be a stud in any one category but should contribute nicely in each. And, given the fact that the keystone position can be a black hole, Odor presents a nice value to dynasty owners. He's passed the AA sniff test, so a call up is probably on the horizon this next year but it may very well come with another team as he's blocked by Profar at the major league level. His high floor and relative closeness to the majors gives him the nod for the top spot on this list over his higher upside teammates.
ETA: Late 2014
2. Jorge Alfaro/C
If you want upside, look no further than this 5 tool backstop. Alfaro has massive raw power and plus speed, and if everything clicks those tools could make him not only the best catcher in fantasy, but one of the best overall players in the game period. However, for as high as that ceiling is, the floor is conversely very low. At each stop of the minor leagues, he's failed to record a BB% under 20%. That much swing and miss could severely hinder his ability to reach his full potential, especially in points leagues where his strikeouts could be lethal. Additionally, while possessing all the tools needed to play the catcher position (especially the arm), his actions behind the dish still need a lot of work. If he's pushed to the outfield, that profile suddenly loses a lot of it's sex appeal. He'll likely return to High A to start the year but should spend most of the year at AA. Even with the inherent risks, Alfaro is one of the most valuable commodities in dynasty baseball; a catcher who could drop 25 bombs and 20+ steals…sign me up.
ETA: 2015
3. Nick Williams/OF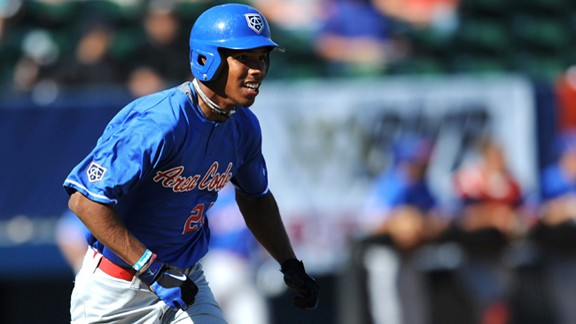 The 2012 2nd round draft pick is a veritable tool shed that could end up being a fantasy monster if he puts it all together. He has natural ability for putting wood on the baseball, and he demonstrated that by hitting .293 and slugging .543 in 95 games at Low A Hickory last season. Unfortunately, while he does make a lot of contact, his aggressive nature at the plate also leads to a lot of empty swings. In those same 95 Low A games, he struck out 27.2% of the time while only walking 3.7% of the time, clearly showing that his approach is very "see ball, hit ball". The Rangers will no doubt want to see an improvement in that department, but most fantasy owners couldn't care less about his BB rates. Sure, those strikeouts could hurt some in points leagues, but as long as he's making that much contact and hitting for high averages, it won't matter to most of us. Additionally, he's also a plus runner but needs to improve his base running (8 steals in 13 attempts last year). The total package is very intriguing as longs as he's able to continue to show these skills all the way up the minor league ladder.
ETA: 2016
4. Joey Gallo/3B
Upside, upside, and guess what? More upside. Just keep reminding yourself of that. Gallo's power is legendary, but so is his swing and miss; last year he hit 40 bombs but also whiffed a glorious 172 times. Much similar to Miguel Sano who I chronicled last week, if Gallo can ever be a .260-.270 hitter then his upside is that of one of the best players in fantasy. If not, then…well…meet the next Adam Dunn; a guy who can hit a ton of home runs, draw a walk, and strikeout–that's it. He'll probably start the year in High A, and unless he cuts down on the K's, he'll probably spend all year there.
ETA: 2015
5. Alex Gonzalez/SP
The Rangers kind of flipped the script last year by taking Gonzalez in the 1st round, moving (somewhat) away from the high risk/high reward player early in the draft that they'd kind of been associated with over the past few years. That said, Gonzalez still has an arsenal that suggests a top of the rotation starter, but his lack of command is likely to keep him from reaching that ceiling. With a plus fastball/curveball combo and the ability to turn over a decent change up, he'll still miss a good amount of bats, but probably won't turn into that #1 or #2 that you might be dreaming of, and the Rangers knew that going in. Another thing he has going in his favor is he should be a quick mover. He reached High A in his first pro year, and could be in line for a taste of the Bigs in 2014 if he gets through AA. His fantasy profile is a solid #3 starter who can log a good amount of innings and keep his ERA's respectable. Not flashy, but certainly valuable in the real and fake baseball communities.
ETA: Late 2014
6. Luke Jackson/SP
Jackson probably possess more upside than Gonzalez, but is even more unlikely to reach that upside, and will probably end being a bullpen arm when it's all said and done. But for the time being he's a starter with a big time fastball that sits in the mid 90's, a potential plus change up, and a curveball that shows promise. Also, at 6'2″/185 he has prototypical starter size and could potentially eat up a ton of innings….if his command takes a step forward. And that's a big if. He's tasted AA, but some time back at the level to start the season will go a long way to helping with his command troubles. He could taste the majors before the season's out however. If that command does come around he has #2 starter upside, but if it doesn't then his value takes a big hit.
7. Nomar Mazara/OF
Mazara may not be a sexy as some of his teammates on this list, but he has the classic, power-hitting, strong-armed right fielder profile–and that has value. He has an advanced bat for his age (19), and that will push him to High A where it's entirely possible he may spend all of 2014 getting used to advanced pitching. It may take some time for him to catch up, but he should be able to hold his own; setting up the big AA test in 2015. He could potentially be 25+ HR/year hitter when he matures, and you've gotta love the home ball park he'll be playing in.
ETA: 2016
8. Lewis Brinson/OF
"I struck out 172 times last year"–Joey Gallo. "That's cute"–Lewis Brinson. Brinson struck out 191 times for those scoring at home. So, now that you're up to speed on the negative and the glaring weakness that could keep him from reaching his full potential, here's the positive: he's an amazing athlete with plus (or better) tools across the board. He's the type of athlete teams dream about having in their org's, and then they just hope they can teach them how to play baseball. I don't need to tell you how good he could be if everything clicks, it's monstrous. However, that probably won't happen. But the good thing is he has plenty of time to marinate. No need to rush him.
ETA: 2016
9. Ronald Guzman/1B
Minor leaguers–especially lower level ones–who've already been relegated to first base have a ton of pressure on them to hit all the way up the ladder. Fortunately enough for Guzman, he's a very natural hitter and should be able to do just that. He's still growing into his big frame (6'5″/205), and when he does his power has a chance to play plus at the highest level. He might lack the supreme power that you'd normally look for in your starting first baseman, but it's possible he could be a 20-25 HR guy who hits for high averages. Unfortunately though,while he's a good athlete, he's a below average runner who won't clog bases, but probably won't steal many either. He should move quicker than some of his High A brethren due to his hit tool. Expect him sometime in 2015.
ETA: 2015
10. Luis Sardinas/SS
Sardinas is a glove first short stop, but he's a plus plus runner which gives him at least some fantasy upside. If he can steal 30+ bases/year, he'll find his way on to fantasy rosters. He'll probably head back to AA to start the year where he'll need to work his hitting, but he has and outside chance to see the major's in 2014. It'll probably be with a different team though.
ETA: Late 2014
In Conclusion:
Okay, so most of these guys are a long shot to hit their ceilings, but there's no denying the upside that lies within this system. Several of them will also be looking at a change of scenery possibly even by mid season, so that's something else to take into consideration when making decisions about these players in dynasty. But one thing's for sure, the Rangers know how to develop talent and they also know when to use that talent to strengthen their ball club at the highest level. So whether they stay in the system or not, all of these guys should contribute in some fashion to fantasy teams.