We're a little over a month before the kickoff of college football, and only 2-3 weeks away from drafts!
To start off this year's coverage, we're giving you some "10 to Watch" lists from the major college FBS conferences.  These are the players we're most excited about on the fantasy football level; players who have already established themselves as production studs, and or have the most upside to blow up in the upcoming year.   The Pac 12, much like the Big 12, has lost many of its top rushers and receivers.  However, with arguably the top collection of quarterbacks in the nation, and plenty of up and coming talent, there is plenty for a college fantasy football owner to like coming into 2014.
Without further ado, here is the "10 to Watch" for Pac 12 players, for college fantasy purposes, in 2014:
1)      Marcus Mariota (QB, Oregon)
If there was no Jameis Winston in college football last year, we'd all likely be talking about Marcus Mariota being the top dual-threat QB heading into 2014.  He backed up all the preseason hype with a truly remarkable season, and will unquestionably do it again in 2014.  3,665 passing yards and 31 passing TD's with only 4 interceptions, and 715 rushing yards and 9 rushing TD's are just plain ridiculous numbers.  He's added about 40 lbs on his frame in the offseason to protect him from injuries and still can clock a 4.45 40 yard dash time.  This kid has everything you could possibly ask for from a starting fantasy football quarterback. But with all the NFL hype and sick numbers from last year, be prepared to use a top 5 pick in the draft to steal this Duck superstar.  While I can't say that his numbers will improve much from last year, I'd expect his floor to be near 2013 levels; 4,000 passing yards, 800 rushing yards, and 40 total TD's is a realistic projection.
2)      Sean Mannion (QB, Oregon State)
While I'm not very high on the Beavers overall, you simply cannot ignore the #2 returning NCAA passing yardage leader.  His 66.3% completion percentage while throwing for 4,662 yards and 37 TD's really underscores this kid's top tier talent at the QB position.  While he lost the very talented WR Brandin Cooks to the NFL, and many are saying that the Oregon State receiving core will be down this year, I simply believe that in college football, top tier QBs at high level programs will put up top tier QB numbers.  Although Oregon State has lost two top tier WR's to the NFL the past two years, they also still have the same coaching staff which developed those talents.  What they lack in experience, I believe will be made up with their current WR talent and coaching.  Although it is difficult to say where Mannion may go in your draft with the widely differing opinions of his ceiling this year, I wouldn't hesitate to pick him up starting in the late third round (if QB's are flying off the board).  It is difficult to expect the same numbers as last year, but I could see him reaching 4,300 yards, and 35 TDs, while decreasing his interceptions from 15 down to around 10 with another year of experience.
3)      Jaelen Strong (WR, Arizona State)
Strong had a quality 2013 with 1,122 receiving yards, and 7 touchdowns; however, he is capable of far more.  Arriving at fall camp late last year because of academic issues, he never developed the kind of connection to Taylor Kelly (QB, ASU) that could have paid the bigger dividends that his talent makes possible.  Given another year of physical development and more time with Taylor Kelly, I expect very big things from Jaelen this year.  He is by far the best playmaker in the Sun Devils offense.  Also, ASU has a hollowed out defense that will likely leave the team airing it out to stay in games.  Therefore, I think that he's easily capable of leading the Pac 12 in receiving yards and touchdowns with an upside of 1,800 yards and 20 touchdowns.
4)      Brett Hundley (QB, UCLA)
If you are like many college football fans and have received your information from ESPN College Gameday, you're probably already quite familiar with the Bruin's dual threat QB.  He produced solid numbers in 2014 with 3,071 passing yards, and 748 rushing yards. With a healthier offensive line and solid threats returning at the talent positions in 2014, there is no reason to think he can't improve.  I'd expect another solid year from Hundley with at least 3,300 yards passing and 700 yards rushing.  But that is Hundley's floor, and he could do far better.  The reason I don't have him ranked above Mannion is that I simply don't like the draft pick I'd have to give up to get Hundley.  With Mannion you could pick up two top running backs and still possibly get Mannion in the third round.  That being said, if you're carried away with Hundley's potential (and I certainly won't blame you if you are), feel free to grab him in the back end of the first round of most drafts.
5)      Ty Montgomery (WR, Stanford)
If talent alone won fantasy football games, this receiver would be far further up the list.  He's got the size, speed, and strength to perform at the next level as an NFL #1 wide receiver.  The only thing holding Montgomery back is the design of the Stanford offense, which has a run first attitude behind its fantastic offensive line.  However, I believe that this is the year that Stanford will tilt a bit off that game plan and spread the ball out enough to allow Ty to become a 1,400 yard and 13-14 TD kind of receiver.  Frankly, while Stanford head coach David Shaw states that he's excited by the running back group they have, I don't see a true headline back amongst the bunch.  Ultimately, I believe that talent wins out on this one and we will see a lot of Ty Montgomery tearing through Pac 12 defenses this year.  While picking a Stanford wide receiver may give you a bit of hesitation, the talent is too much to ignore.
6)      Byron Marshall (RB, Oregon)
The top returning back in the Pac 12, Marshall ran for 1,038 yards and 14 TD's on a 6.2 ypc clip in 2013.  Also, the electric De'Anthony Thomas graduated, which should open up even more carries for the talented Mr. Marshall.  The problem?  Thomas Tyner (RB, Oregon), a highly recruited and electric RB in his own right, looked incredible in spring football and could be challenging for carries come fall.  While Marshall is the established starter, and should receive the lionshare of the carries, keep an eye on Tyner throughout summer practice and how he is being utilized.  If he looks like a De'Anthony Thomas 2.0, then pick Marshall in the top three rounds; however, if Tyner looks like he is taking tailback carries, be very wary of drafting Marshall too high.  Both RBs could have over 1,000 total yards even in a 1A & 1B situation; however, without Tyner stealing carries, Marshall could easily be a 1,500 yard back.
7)      D.J. Foster (RB, Arizona State)
Arizona State has had some solid running backs over the past few years, but most have been your typical straight-line runners.  D.J. Foster brings some shiftiness and speed to that mix as well as a penchant for making swing pass plays out of the backfield.  With Marion Grice moving on from the Sun Devils, the backfield belongs to Mr. Foster.  With the Pac 12 now missing 5 of its top 6 running backs from 2014, it would not be a surprise to see Foster end up as an All Pac 12 RB by the end of the season.  I'd expect a workmanlike 1,100 yards rushing and 13 TD's to go along with 600 yards receiving and another 6 TD's through the air.  Putting together the numbers, I'm sure you can see the value here.  The only hesitation is that the Sun Devils may find themselves playing from behind a lot and airing the ball out more than they did last year. However, I still don't think that will mean much to Foster's overall numbers, as he'll be very active in the passing game as well.  I'd be comfortable picking him in the third or fourth round.  If he falls past that, he's a great bargain pick.
8)      Connor Halliday (QB, WSU)
Washington State is not going to be a very good football team in 2014.  Ok, now that we've gotten that out of the way, let's look at the fantasy football side of things, especially their star QB.  Connor Halliday was very impressive year last year, throwing for 4,597 yards and 34 TD's…unfortunately, he also had 22 interceptions.  That being said, with another year under his belt in a Mike Leach offense, I expect the interceptions to drop. And Halliday should challenge Sean Mannion for the Pac 12's passing yardage title.  I really like the looks of their WR core coming into this year, and the lack of a great defense again will cause Washington State to have to air it out to stay competitive.  Overall, if it wasn't for the interception total from 2013, he'd be one of the top 10 QBs in the country.  I'd look for Halliday in the same area as Mannion, and snap him up as a back end #1 QB when all of the other, "more exciting" QB prospects are off the board.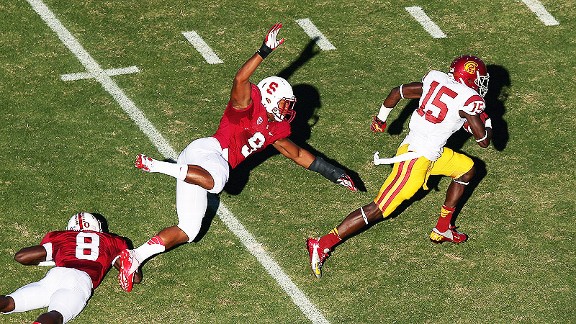 9)      Nelson Agholor (WR, USC)
If this was 10 – 15 years ago, Mr. Agholor would be far higher up this list. But alas, it is 2014 and the USC football program has hit hard times.  While adding Steve Sarkisian as coach will help, there is still a lot for this offense to pick up to utilze the wide open kind of spread offense that he prefers to run.  That being said, Coach Sarkisian did previously coach at USC and his open offense shares many play similarities to the offense that was run at USC in the recent past.  If Cody Kessler (QB, USC) continues to develop into the top tier quarterback he is capable of being, and they pick up Sarkisian's the offense quickly, I wouldn't be surprised if Agholor ended the season with over 1,400 yards receiving and 12 touchdowns.  Keep in mind that this is a very rosy scenario, but in college fantasy football you have to pick for potential.  That being said, I'd pick Nelson in the fifth to sixth round, and again, past that, he'll be a great value.
10)      Jordan James (RB, UCLA)
James was well on his way to becoming a fantastic fantasy back in 2013 before injuries derailed his season.  The beauty of this back is that he'll be overlooked in your draft based on his pedestrian numbers from last year; however, he could easily be a 1,500 yard back w/15 – 20 total touchdowns.  I said easily because UCLA has a great run blocking offensive line, and James was on pace to a 1,600 yard season before the injury.  While it is always an iffy proposition to put much stock into a running back on a team with a dual threat quarterback, I'd watch the UCLA fall camp carefully. If James is looking healthy, then pick him a round or two sooner than you'll think you need to.  As he is coming off an injury, that will likely be the 7th or 8th round.  That's tremendous value for a potential top 20 back.  That being said, be aware of your league makeup.  If it is experienced and knowledgeable, you may have to reach to the 5th round to get him. But if James is indeed healthy, he is not a reach at that point.
Thoughts?  Share them below.  In any top 10 list you're going to miss some players; especially in college where the next super stud possibly hasn't taken his first step on the field.