The San Diego Padres have been a struggling franchise for the past few years.  They have developed few players in their minor league system in recent years (the most prominent player being Chase Headley), but there does seem to be some hope on the horizon.
Apply what you've learned and win some cash! DSE Fantasy Baseball Leagues are now open for registration. CLICK HERE for more info!
1. Matt Wisler, RHP
In 2011, the Ohio native turned down a scholarship to Ohio State in favor of a high six-figure contract after the Padres popped him in the seventh round.  After opening 2013 in High-A, Wisler saw his development gain steam over the course of the season. The right-hander made 26 starts, 20 at Double-A, where he posted a 3.00 ERA and a 1.07 WHIP in 105 innings. He fanned 103 batters total and walked just 27, while holding opposing hitters to a .223 average. Most impressive, Wisler struck out roughly 34% of all right-handed hitters he faced in Double-A. With a plus fastball and a plus slider, Wisler has two absolute weapons. The change-up is still developing with a decent chance at being more than a show-me pitch at the highest level. After his dominance over advanced hitters, Wisler has seen his stock rise from a high-risk, projectable prep pitcher to a strong candidate to be at least a number three starter for the Padres by 2015.
ETA: Mid 2014
2. Austin Hedges, C
While Hedges admittedly has a lower fantasy ceiling than a few members of this list, he possesses the highest floor in the Padres farm system. A pure backstop behind the plate, it is a near certainty that Hedges will get a long look at the Major League level in the near future. The 20-year-old showed moderate offensive skills in 266 plate appearances for Lake Elsinore in the hitter friendly California League, where he slashed .270/.343/.425. While there are plenty of reasons to question the offensive upside in the profile, Hedges' age-20 season falls right in line with another late bloomer: Yadier Molina. As a 20-year-old with the Double-A Tennessee Smokies, Molina slashed just .275/.327/.332. Hedges will start the 2014 season as a 21-year-old with San Antonio, where he wrapped up the 2013 season with 75 plate appearances. Patience is a virtue, and Hedges could pay off in the long run if you're willing to wait.
ETA: 2015
3. Max Fried, LHP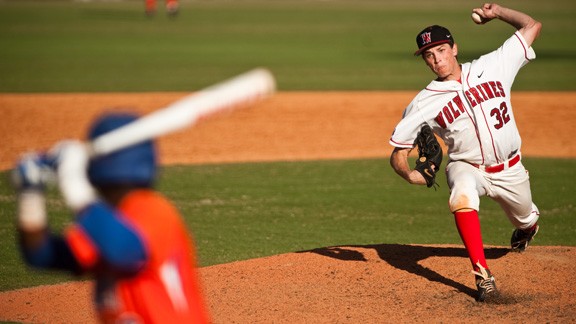 After being picked with the seventh overall pick in the 2011 Amateur Draft, Fried drew comparisons to Clayton Kershaw because of his prep profile. With clean mechanics and a polished pitch profile, Fried has front-end of the rotation potential. With a plus fastball that sits in the low 90s and a plus curve ball that projects to be a swing-and-miss pitch, Fried has the highest upside in the Padres farm system. After wrapping up his age 19 season in Low-A, Fried will likely open the 2014 season with High-A Lake Elsinore. While the High-A California League is a real meat grinder for young pitchers, it is also an opportunity for Fried to send his prospect profile into the stratosphere.
ETA: 2016
4. Rymer Liriano, OF
After slashing .280/.350/.417 between Lake Elsinore and San Antonio in 2012, Liriano blew out his elbow last February. The 22-year-old required Tommy John surgery that sidelined him for the entire 2013 season. Flashing all five tools, Liriano hits for power to all fields and has stolen at least 30 bases in each of his last three active seasons. A prototypical right fielder, Liriano's success depends on his hit tool, which projects to be league average. A tick better, and he could be an all-star caliber corner outfielder. A tick below, and he could be a fringy fourth outfielder. The tools are enticing enough to put him at the top end of a Padres prospect list, but the risk of ruin is present and accounted for.
ETA: 2015
5. Casey Kelly, RHP
After a strong 2011 campaign with Double-A San Antonio, Kelly suffered an elbow injury that required Tommy John surgery in 2012. After sitting out the 2013 season with a setback, Kelly will open 2014 with Triple-A El Paso. In just 29 innings in 2012, Kelly ramped up his strikeout production and delivered on some of the potential that made him a late first round pick in 2008. With three average pitches, Kelly has a relatively high floor with a low ceiling to match. Assuming he is healthy, Kelly should contribute with the big league club in 2014 and establish himself as a middle of the rotation righty by 2015. While he is more likely to contribute at the Major League level than Liriano, Kelly's track record does not include serious strikeout potential, which could limit his fantasy value.
ETA: 2014
6. Hunter Renfroe, OF
The 13th overall pick in the 2013 Amateur Draft, Renfroe is relatively raw for a college pick. After struggling through two years at Mississippi State, he hammered 16 homers in a junior year campaign that propelled him to the front end of the draft class. The Padres are high on his power and his value will depend on how much the hit tool allows his power to play at the highest level. In 2013, Renfroe slashed .271/.308/.459 in 183 plate appearances between two levels of Single-A ball. While displaying a hint of the power that made him a first rounder, Renfroe also struck out 49 times and showed the swing-and-miss that keeps him from being higher on this list.
ETA: 2016
7. Keyvius Sampson, RHP
After opening the season with four rough starts at Triple-A, Sampson was demoted to Double-A to work on his command and sequencing against advanced hitters. In 19 appearances in Double-A, Sampson held opposing hitters to a .199 average and posted a 1.01 WHIP, while striking out 26.7% of batters he faced. Already sporting a fastball in the mid-90s and a devastating change up that projects to be a plus pitch, Sampson was a good breaking pitch away from reaching his #3 starter ceiling. In 2013, Sampson switched from a curve ball to a slider and had fantastic results. As he improves his feel for the new pitch and refines his command over the rest of his arsenal, Sampson is poised to compete for a spot at the back end of the rotation in 2015 and beyond.
ETA: 2015
8. Burch Smith, RHP
A 14th round pick in the 2011 draft, Smith has flown through the Padres farm system on the back of a plus fastball that has natural glove-side run. Smith rode his mid 90s fastball to the Bigs in 2013, where he made 10 appearances (seven starts) and was touched for nine homers in just 36 innings. On the bright side, Smith showed that his fastball and average change up are more than enough to miss bats as he logged 46 strikeouts against just 21 walks. After getting torched in a short stint with the Padres in 2013, Smith will undoubtedly focus on developing his breaking pitch at Triple-A in 2014.
ETA: 2014
9. Joe Ross, RHP
The younger brother of Padres starter Tyson Ross, Joe Ross is a projectable young right-hander that San Diego took in the first round of the 2011 draft. While he sports a plus fastball and a wipeout slider, he has a change up that, in a perfect world, projects to be just an average pitch. Able to touch the upper 90s with his fastball, Ross has a third starter ceiling that earns him a spot near the bottom of this list due to the significant risk given his age and track record. At 6'3, Ross has prototypical size and the present arsenal to be at least a high leverage reliever, but if the change up develops he could find a spot at the back end of the Padres rotation in a couple years.
ETA: 2016
10. Jace Peterson, SS
A first round supplemental pick out of McNeese State in the 2011 draft, Peterson has combined great on-base skills with an average hit tool to get optimal results for an up-the-middle fielder. Whether his future is as an average defensive shortstop or a plus defender at second, Peterson's real value is in his advanced approach and plus speed. In 2013, Peterson slashed .303/.382/.454 with seven homers, 13 triples and 42 stolen bases in 52 attempts. He will begin 2014 at Double-A, where his numbers are likely to be deflated regardless of development as a result of leaving the hitter friendly confines of the California League.
ETA: 2016